All the Colors. All the Time.
Top cardstock brands like Bazzill and American Crafts in all the colors and textures + super fast shipping!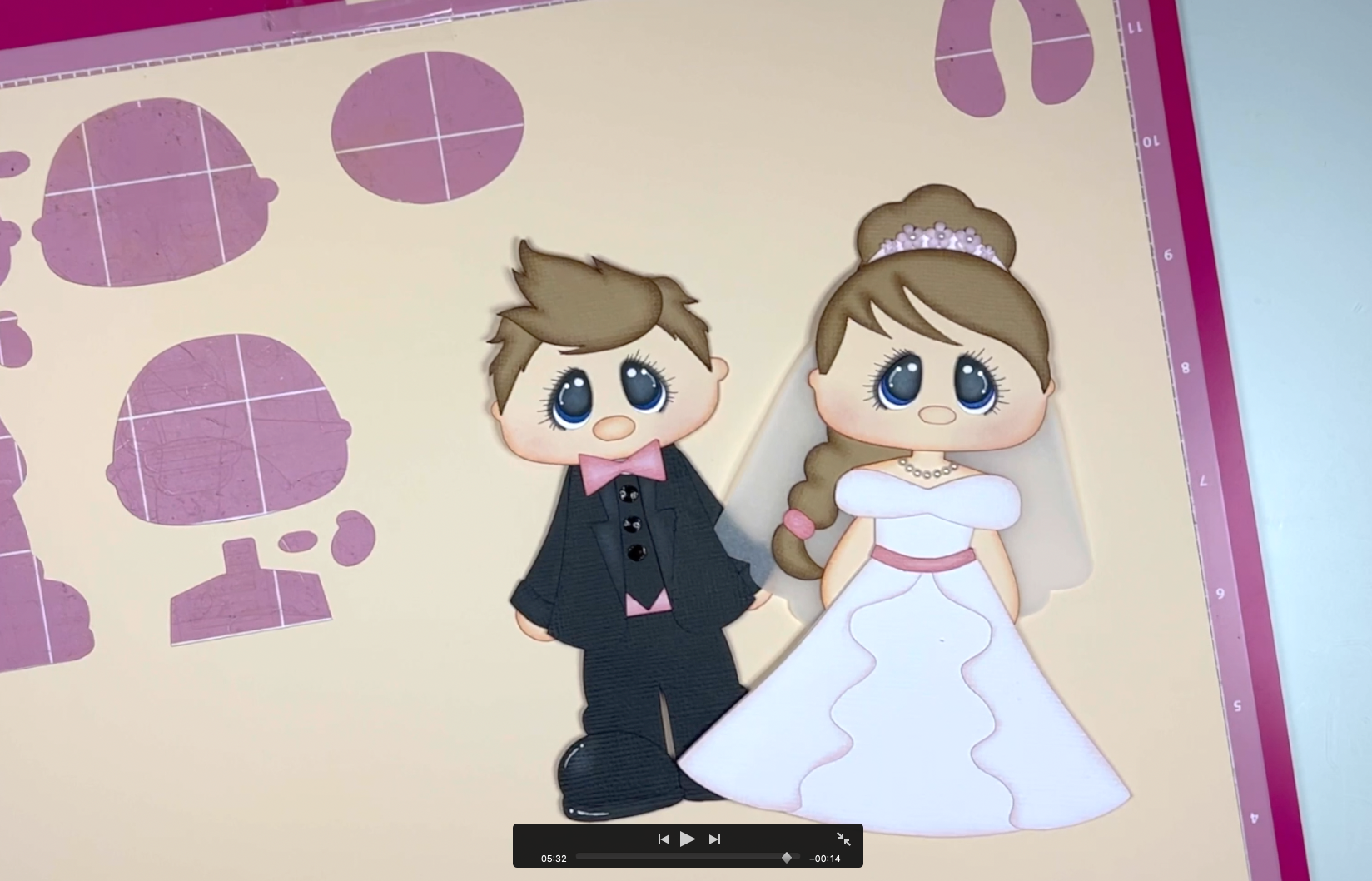 LATEST VIDEO
WEDDING COUPLE PAPER PIECING
Join Design Team Member Cherie as she assembles this adorable wedding couple and shares tips for ink and cardstock combinations.
Watch now
★★★★★

Best place anywhere if you're looking to buy top quality paper and get top quality customer service! The people here are absolutely amazing, extremely knowledgeable of their materials, very receptive to questions/emails.

Bobbye Bissette
★★★★★

This shop is the best thing since sliced bread!! It is not only FAST on processing on-line orders, you get great customer service on anything you may need help with. Worth the time to shop with them on-line.

Jan Lee
★★★★★

I cannot believe how fast the shipping is and I love the care they put into packing things up. Such a great assortment of quality cardstock and so many fun specialty papers.

Michelle Price
★★★★★

I love shopping here. The prices are very reasonable and the service is friendly. They send cute little messages with all the orders that are great. I have them taped up all over my craft room. I have never had a problem with my orders. The quality of the card stock is top notch.

Nykki Sutton
★★★★★

Lynette, I just wanted to thank you for your "hands on" assistance. The colors you helped me pick out worked perfectly for my daughter's wedding. You have gone the extra mile to help, and it meant so much.

Amelia K. — Nebraska
★★★★★

Just a little note to let you know how much I enjoy working with 12x12 Cardstock Shop. The quality of your paper is wonderful. I am a paper artist using my Cricut, working by hand to make beautiful things, and your paper helps me in this endeavor. Your website is easy to use and your shipping is so quick!

Lori C. — Rhode Island
★★★★★

Lynette, I received my paper order yesterday and it's absolutely amazing paper! I love the vibrant colors and the texture. It cut beautifully in my Cricut and I'm going to make my first Dreaming Tree project tonight. Thanks again for your wonderful service!

Jan H. — St. George, UT
★★★★★

A big shout out to 12x12 Cardstock Shop for having the best selection of cardstock I have ever found. This is the perfect place to find just the right American Crafts cardstock color. Thanks!

Paula V. — Burlingame, CA
★★★★★

Thank you so much for being so awesome to work with. I love your site. I've looked high and low for a place I can order all the colors I want in one place and 12x12 Cardstock Shop popped up one day and is exactly what I was looking for. And now I know that you have amazing customer service too.

Melissa K. — South Dakota
★★★★★

A while back, I placed an order for numerous individual sheets of 9 different paper colors. When my order arrived short one color, I wrote Lynette about the problem. Less than 6 hours later, the missing paper was on its way to me. Excellent customer service, 12x12! You're the best!

Sally T. — Fallon, NV
★★★★★

This is such an easy and convenient resource to buy cardstock. I love your collection, and the quality of Bazzill and American Crafts cardstock is just tops.

Emily D. — Pittsburgh, PA
★★★★★

Great service to back up a great paper selection. My order was shipped same day and I got it two days later. So impressed with 12x12 Cardstock Shop.

Phyllis L. — Indiana
★★★★★

The stores where I usually buy my cardstock just seem to have less and less variety on their shelves. I finally decided to go online and was thrilled to see your shop which makes it so easy to find the cardstock I need, when I want it.

Cindy N. — Virginia
American Crafts: Best cardstock for cutting
Looking for the best cardstock for cutting on a Cricut or Silhoutte machine? American Crafts Textured Cardstock cuts so well, you'll be shocked. Use American Crafts Precision Cardstock to cut script letters, small embellishments and lots more. It can handle it all.
Plus - it comes in over 100 trendy cardstock shades and is sold in both single sheets or packs of 25. We also sell American Crafts Cardstock Variety Packs, with shades chosen for the seasons or color value.
BAZZILL CARDSTOCK: HIGH QUALITY cardstock in every color
Bazzill Cardstock features over 400 colors of high quality cardstock in multiple finishes. Shop smooth cardstock, textured cardstock, embossed cardstock, pearlescent cardstock and more all within the Bazzill brand.
Bazzill is one of the top cardstock brands and is a favorite cardstock for scrapbookers and cardmakers.
Echo Park Collection kits
Want to pop open a scrapbook kit and start creating without thinking about picking patterned papers that match? Echo Park Scrapbook Collection Kits have all the work done for you with coordinated sets of patterend papers and matching themed stickers.
Echo Park is known for it's adorable high quality patterned cardstock from top designers. We've got a themed scrapbook kit for whatever you're working on; wedding scrapbook page kits, dog scrapbook page kits, school album page kits and so much more.
SIMPLE STORIES Vintage inspired patterned papers
Shop our best selling Simple Stories patterned paper collections and know that you'll get top quality patterned papers in trendy, vintage inspired designs perfect for cardmakers and scrapbookers alike. From double-side printed papers, to cut apart journaling cards and stickers, Simple Stories knows how to make your paper projects look good with little effort on your part.
Mix and match paper patterns within a certain line and be confident everything coordinates. Patterned paper sold in single design sheets means you can collect multiple collections and choose onlly what you love.